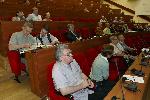 PIRT-2005
k004
PIRT-2005
Dear Collegues!
The international conference "Physical Interpretations of the Relativistic Theory"(PIRT-2005) is to be held on 4-7 July in the Moscow State Technical University n. a. N. E. Bauman (usually it is held in the London Imperial College). In the framework of the conference the section of the Finsler generalization of the relativistic theory is to be organized. The lots of Russian and some foreign specialists on the Finsler geometry attended at the section.
The claims for participating the section's job should be sent in common order to the conference's web-site: PIRT-2005 If there are any specific problems, demanding the solution in the frameworks of the section, write to: hypercomplex@mail.ru
One of the section's aims was to make the preparations for the The first international scientific workshop "Geometry of Finsler spaces with the Berwald-Moore's metric" (Cairo, Egypt, 15-22 October 2005). More detailed information on it is given on the "Conferences" page.